(back to riggenho.com main page)
RiggenHO Limited Edition 2-J Super Detailed $124.95
Contact us by e-mail to order!
Here is the Chaparral 2-J, hand detailed on a Custom RiggenHO chassis. This RTR car is offered as a Limited Edition of 5 ONLY. The Chap 2-J was a revolutionary car in Can Am racing history. Riggen Industries was prepared to release a 2-J body but never did. The wide body style with covered rear wheels would have required a special shaker plate and though prototypes were thought to have been designed for this body, the car never was released commercially.....until now! This body is vacu-formed from the original mold and a new shaker plate was designed for fitting this body.
Jan 2006----Now Sold Out.....watch for more limited editions coming soon!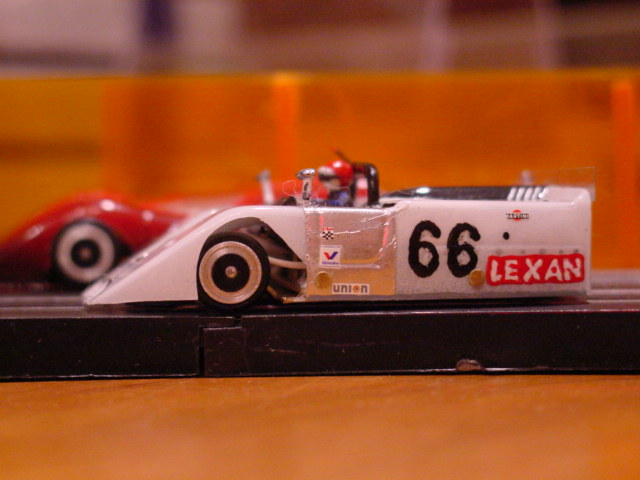 Details:
RiggenHO custom chassis and shaker plate with soldered pin tubes to accomodate the wide Chap 2-J body
****Incredible Hand Detailing including hand painted numbers and sponsor decals, rear spoiler, painted driver, mirrors, antenna (OK, some imagination required), roll bar and detailed rear suction fans!
1 pin style guide flag with leads, retainer tube and leads retainer clip
Tapered Aluminum Front Wheels, front axle and O ring tires
RiggenHO Screw on aluminum rear wheels and no tear Silicon tires
This is a smooth running, UNIQUE car for your collection! We have a very limited supply (5) of these super detailed cars.
This chassis can be easily hopped up like all of our chassis with state of the improvements including different gear, wheel and tire options.
(back to riggenho.com main page)