Bachmann/TycoPro look-alike
-----or at least enough to cause a lawsuit!
The supposed story is that these were produced by Bachmann called the BLASTER, released first in Japan and then brought over to the US. When Tyco saw these, these went into full legal laswuit mode (copyright infringement) and Bachmann acquiesed, stopping production and import. All these were recalled, supposedly destroyed and Bachmann came out with their own chassis (Groovebuster) making this chassis version very rare....
-----------------------------------------------------
Pat's comments:
"I do not remember ever seeing one of these - or aware of the litigation story. But I can see where Tyco HK probably went after Kader - we had both a US patent and a UK design registration for ammunition.
As I said previously, Kader Industries of HK performed all of the engineering, tooling and manufacturing for Bachmann. The arrangement was that these products would be packaged as Kader for all markets outside of N. America. This allowed Bachmann to avoid the engineering & tooling costs. Kader was one of the largest manufacturing companies in HK, toys & hobbies being only smaller part of their total business.
When the UK announced that HK was to be "returned" to China, many HK companies moved capital out - Kader purchased Bachmann, other firms doing similar deals."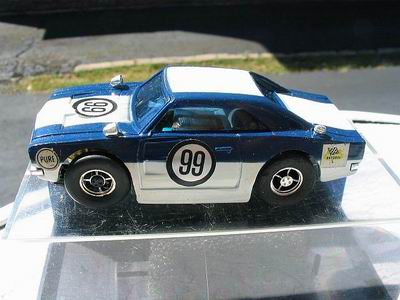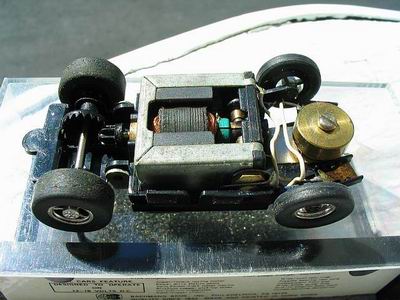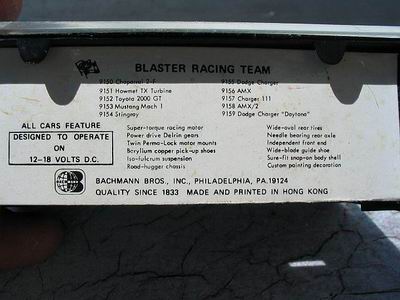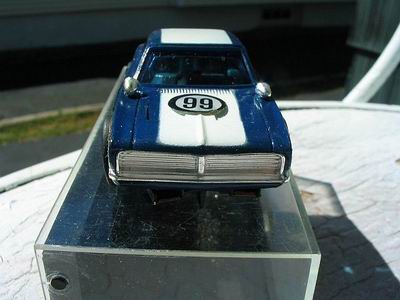 This is a very rare chassis and the borrowings from TycoPro are obvious...the chassis has a very nice drop arm feature. It uses a flag weight very similar to the Dynabrute weight. Although the can motor is not marked as the ubiquitous Mabuchi HT50...it appears to have the same dimensions...
Here is a very rare Bachman Blaster Set....more detailed photos on this link...Bachman Blaster Set
This ebay lot sold for over $1000 in 2007???
another set discovered, note different decals on the Charger