(back to riggenho.com main page)
-----Miller Memorial 2008 Drop Arm Limited Edition-----
....Rat Fink/Rat Rod style....$175 includes priority mail shipping
1:1 inspiration?
You may remember from previous correspondence the announcement of a special RiggenHO Limited Edition called the "Drop Arm"....In February of 2008, we were informed that the designer of this LE, as well as RiggenHO builder and friend Marv Miller, passed away unexpectedly...the project was put on what we thought would be a permanent hold....
In late March, I recieved a package from Canada--quite unexpected--The contents of which were all of the parts that Marv had organized and partially built for this special edition. Also inside the package was a note from Marv's home care assistant explaining to me that Marv had a very strong desire to make sure I got these parts back...

Marv's original idea for the chassis was to replicate the Classic 1/24 drop arm chassis with a long tongue hinged from the back holding the flag assembly. The design was meant to improve slot car "drive" physics by spreading chassis vibration from front to back and minimizing motor hop that plays havoc on a fixed guide flag...
The circumstances surrounding this Limited Edition have been different to say the least, and our choice of bodies and paint theme are too. The Rat Rods of yesteryear were functional yet somewhat incomplete in appearance. This theme reflects the "incompleteness" from the Marv's initial build and then Terry Flynn's efforts to finish the work. Each chassis and body is unique to itself. Every major build function required some problem solving step. This carried through to final body fitment where some liberties had to be taken. Miller did not cut all his drop arms to the same length. Some fit without conflict straight away. A few required additional work to allow the guide flag to rotate without front bumper interference."
As ususal for one of Terry's builds, each chassis has had careful attention paid to both performance and looks....each chassis was torn down to the spot of proper quality and then rebuilt from there...The original drop arm chassis design was meant to have the Black Magic motor providing the horsepower..unfortunately, though the design and components make this possible, the amount of hand tuning and re re fitment required makes the motor "non economic"!
We have been able to salvage 9 chassis with the parts on hand...9 complete cars have been completed and we have two bodies used for the prototyping...

Each chassis in this limited edition has been hand tuned for performance and uniquely painted by Jairus Watson in a Rat Rod/Rat Fink/Von Dutch style...
Ordering Details: FIRST COME FIRST SERVED...(as of 5:00pm May 26th 2008, this edition is officially sold out...)
FEATURES:
Miller Rat Rod LE Specifications and Build Sheet
1) RiggenHO chassis modified by Marv Miller and then Terry Flynn to the Classic Industries drop arm style, Rear axle bushings installed. Hand made brass drop arm and rear hinge.
2) Thunderbolt Lexan 55 Chevy or Chevy Nomad body SPECIALLY painted by Jairus Watson in a Rat Rod/Rat Fink schemes. Each body is unique and fitted to a modified/soldered shaker plate with pin tubes and attached with brass body pins.
3) Mabuchi Green Arm can with rear Oil-Lite bearing. Cans broken in with low voltage. Only cans that exhibited smooth run-up were accepted.
4) AFX G+ gear set
5) Wizzard rear axle drill blank
6) Wizzard AST .444 silicone sponge rear tires.
7) RiggenHO Brass independent front axle set.
8 ) Reproduction brass Mushroom weight cap. Additional lead weight behind cap added.

Car Names:
1) "Ghost Flames" --taken--



2) "Rusty Cross"--taken--



3) "Primer"--taken--



4) "Classic Flames"--taken--



5) "Rust Through"--taken--



6) "Dead End" --taken--



7) "Prime Von Dutch"--taken--



8) "Fink Mail"--taken--



9) "Roth Tribute"--taken--

Links:
Terry Flynn email
Jairus Watson web site
Wizzard High Performance web site
Scale Auto web site
Pics of the prototypes from 2008.....
"BeeVD"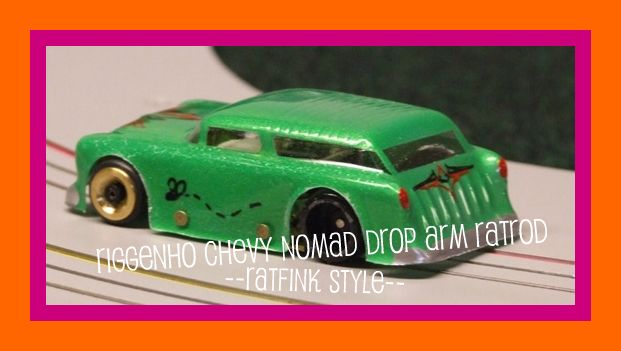 Majestic