(back to riggenho.com main page)
-----Fall 2008 East/West Limited Edition-----

Celebrating the styles of two of the hottest Slot Car painters around!!
RiggenHO is proud to release.....
the 24 car Fall 2008 East/West Limited Edition.
(please click images for larger, hi res versions!)
This limited edition uses our best performing "modded" RiggenHO chassis (tweaked and improved over the last 3 Limited Editions) as a showcase for the painting talents of Joe Neumeister and Jairus Watson.....
This particular Limited Edition's intent was to focus on the painters that support RiggenHO. Jairus Watson and Joe "Noose" Neumeister are well known for their work in the larger scales. Each has their own 'no decals were harmed' style and painting techniques. Giving them the spotlight has been long overdue.
Simply stated each painter did a dozen bodies. The first six each are their interpretation of actual Porsche 917 race cars. The scope of work was never to be an exact copy but to capture the color and intent of the classic paint schemes.
The remaining twelve bodies were open for each painter to do as he pleased. Watson painted odd numbers and Noose painted even numbers.




Pairs of Gulf cars, Pink Pigs, or whatever can be matched for sale...As good as they look in the pictures--they need to be seen in person!!!!
See the complete edition below......
------------------------------------------------------------------------
Ordering Details: FIRST COME FIRST SERVED...(as of XXXX am November XXX, 2008, this edition is officially sold out...)
All previous RiggenHO Limited Editions have sold out within 48 hours of release. Releases are announced by email to all RiggenHO Newsletter subscribers. You can subscribe here...
The entire edition can be seen in the photos below, cars that have been taken are noted --taken-- and the list will be updated as quickly as possible.
2 Car Set $295 -includes Priority Mail shipping.
contact us to order
-------------------------------------------------------------------------



FEATURES:
East/West Limited Edition Specifications and Build Sheet
1) RiggenHO chassis modified by Richard Picard to vintage Riggen Industries classic Drop-Motor configuration.
Rear axle bushings installed. Pinned shaker plate up-grade.
2) Scale Auto Lexan Porsche 917 body painted by Jairus Watson or Joe Neumeister. Brass body pins.
3) Mabuchi Green Arm can with rear Oil-Lite bearing. Cans broken in with low voltage. Only cans that exhibited smooth run-up were accepted.
4) Wizzard Pro Predator 7T pinion and 23T crown gears.
5) Wizzard rear axle drill blank trimmed to 1.2"
6) Wizzard AST .440 silicone sponge rear tires.
7) RiggenHO Brass independent front axle set.
8) RiggenHO classis guide flag. Plastic clip wire retaining system.
9) Reproduction brass Mushroom weight cap re-machined. Additional lead weight behind cap added.
Chassis and shaker plates were 'de-horned' with a Dremel wheel. Parts were media tumbled polished for three hours. Parts were degreased and sprayed with a light coat of clear lacquer paint. Any shaker plate/chassis fit conflicts were identified and corrected. Front shaker plate pin tubes were ground back to insure no motor brush barrel shorting. Chassis numbered on top side, shaker plate numbered on bottom side, motor numbered on label to correspond with car body number.
Completed chassis inspected for 'squareness' of wheel contact. Pickup wipers set to allow front wheel track contact. Each chassis run on 55 LF Bowman road course for final adjustments. Bodies individually fit to chassis. Tape applied to inside to prevent paint scratching from shaker plate. Finished units test run again.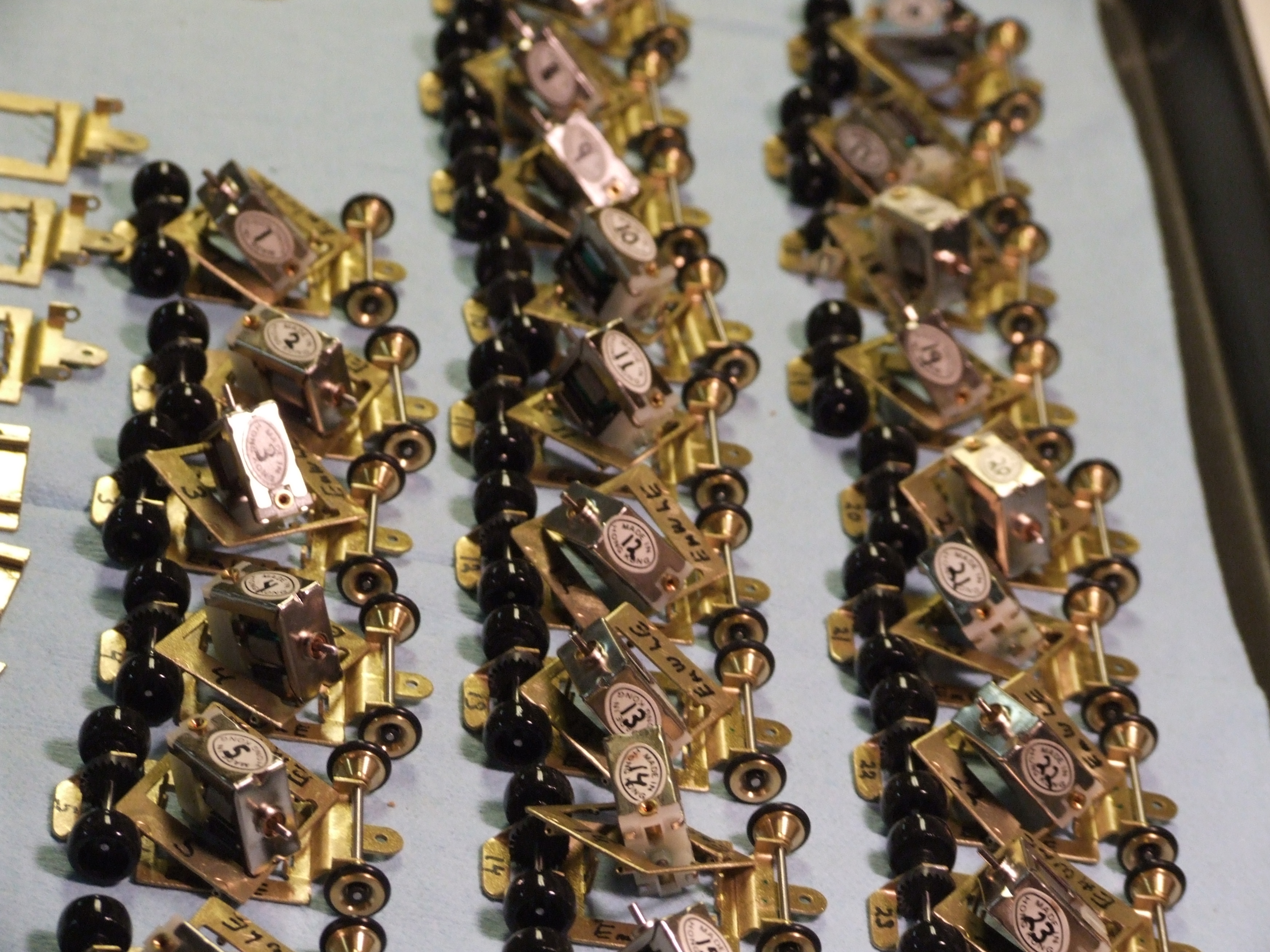 This Edition:

(Noose did the even numbers, Jairus did the odd numbers....)
(Click the images for larger pics, click the link for reference photos!)
1,2: Gulf Porsche (1 and 2 are --taken--)



3,4: Martini Psycho (#3 and #4 both taken--)



5,6: Pink Pig (both pigs are--taken--)



7,8: Sandeman (--both taken--)

9,10: "Le Mans Salzberg" (both red cars--taken--)




11,12 Martini Standard (11 and 12 are --taken--)


13 Shark Teeth(--taken--)
14 Lime...(--taken--)
15 Team Riggen (--taken--)
16 Magenta --taken--
17 Orange --taken--
18 Intel(--taken--)
19 Tiger (--taken--)

20 Light --taken--
22 Pollack (--taken--)
23 Color Wheel --taken--
24 Class--taken--
Builders Notes:

Once again I owe Ron "Toybaron" Bernstein a big thanks for giving me the privilege to work on another Limited Edition Project. He is truly the hub in the wheel for all of us that have the opportunity to contribute to the hobby – specifically brass based cars.
This is my fourth Limited Edition and I learn new things each time. Hopefully for the collector this translates into product value. The attention to detail for these LEs has helped me in my other HO pursuits – T-Jets to Poly Mods.
The parts selection reflects somewhat my outlook on car setup. I've found this receipt to be highly pleasurable running on my Brad Bowman road course at 13ish volts with a DeFalco controller.
Thanks,
Terry Flynn
Previous Flynn Limited Editions.....
--New-Old School June 2007
--IROC March 2008
--Miller Memorial May 2008


Links:
Terry Flynn email
Jairus Watson web site
Wizzard High Performance web site
Scale Auto web site