The "Terry Flynn Super 7"
Any questions, please contact riggenho or Terry F directly.....
Feb 2009 ROUND 2 has been completed and sold....here is a pic of the parts.... have been ordered and a build under way (click for pic). As finished.....(PICTURE)
Mar 2009 ROUND 3 is now underway.....check this link....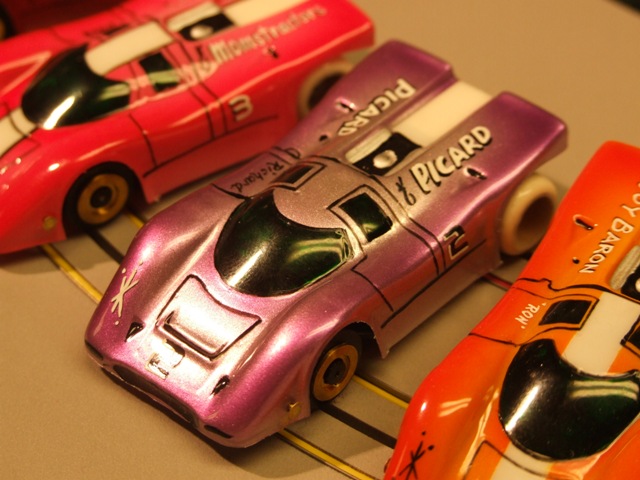 WHY????????
written by Terry Flynn
Well, when you figure it out, let me know because I'm still scratching my head as to why I did it. Maybe it's like the old reason why people climb mountains – because it's there and you can.




Seriously, you can 'blame' Richard Picard for this one. There was a post on one of the slot sites regarding the sequel to the Aurora Super II – the Super III. Richard made the comment that it would be interesting to have one or something to that effect.


At the time I had purchased some T-Jet parts from Chris Rolph. He said he had a supply of the never released Super III weight kit pans. Also, he supplied the complete NOS A/FX chassis, original Super II magnets, NOS Super II crown gears, and NOS Super II rear axles. He's a great asset to our hobby.
OK, so we're off to the races. And by the way Ron, I started this deal about the time we started "E m W LE". There were several things that needed to be considered if I was going to build a concept of the never released Super III. What motor, what front, what drive line?
I ordered three test motors from AG&G. One was a single wind, two lam, red wire. The next was his Quadra-Lam copy: the Quad-4. The third was a two-lam double wind. My thinking was to put the Quad in them since the original Super II had the 4-lam unit.
I put the three arms on separate plates to try in the proto chassis and a Super II weight kitted chassis. The two lam red wire ran very well. But to my disappointment, the Quad lam was very 'brutish'. It seemed to take just a hair longer to wind up and then carry a lot of roll. But, son, when it kicks in it's like a big block under the hood. On my Bowman road course it was just too much motor.
Correct me if I'm wrong but it would seem that the Quad motor would be great on really big tracks with lots of straights. The two-lam arms seem to be more responsive and allow more adjustment with a Difalco. Generally I had to run the Quad with brakes. The two lam runs in neutral or even a very little bit of coast. After about a week of hard running I decided to go with the two-lam double wind. At least then you have some 'Super' something in the car.
Doug Morris has built some fine A/FX pan car reproductions. He uses an interesting modification for the cluster gear. I decided to use that along with rear axle bushings to give the car some sex appeal. As a side note, the brass bolt acts like the two little tits on the original Super II plate to hold the body up off the chassis.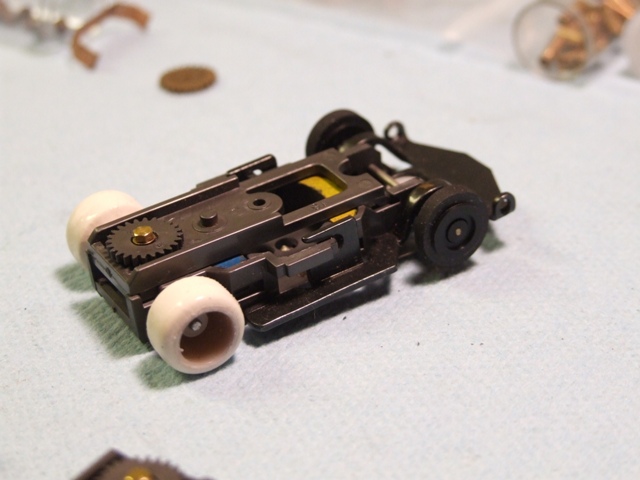 One problem I encountered during the proto-type build was a decent front end. I've used the AJ's unit and didn't think much of it. Factory fronts are spotty on there trueness and roundness. I discovered that JW's Speed Parts makes fronts for about any HO slotcar platform. I ordered some units to test and they were top shelf.
Actually I thinking JW's delrin are the best with their very low rotating mass. To be period correct I thought about going with aluminum. But, you see, there is this fellow named Ron Bernstein who really likes things made out of brass. Blame him.


Then there is the weight pan. I think I know why Aurora never went forward with this item. It is a pain to get sorted out. They came with no instructions or hints. When first fitted to a chassis, they go on very tight. If you didn't know better, you'd think that's how they are supposed to be.
After several weeks of running I figured that the 'pans' are meant to articulate. All you have to do is to spread the side wings a smidge and not over tighten the chassis screw and nut. Once I figured this out the proto ran a little better.
Even still the proto didn't handle near to what my Super II copies do. The proto would under-steer bad. So out came the scales to see where the weight distribution was on the proto vs. the Super II copies. What you end up with is a chassis that weighs as much or a fraction more than a Super II kitted chassis.
In the middle of all this testing and hand-wringing was the selection of rear tires. I decided on the Wizzard Low-Tac for several reasons: 1) they allow a little drift on my track to cancel some under-steer, 2) I could get them in .462 diameter which is required to keep the chassis rivets off the rails, 3) they were less than $10 a pair.
Seriously though, the handling of the cars will be greatly affected by the rear tires. On my track even after I got the overall weight sorted out, if the rears were too sticky (a black tire) the car would tend to de-slot just after a corner apex. It just seems to need a little bit of spin to power through the corners.
The Low-Tac tires are sensitive to track cleanliness. So if the car is way too loose after a lap or two, clean the tires and dust the tack. After that if the car is still too loose for your surface, try a narrow black compound. If that's not enough bite, go wider.
Along the way I decided to have Joe 'Noose' Neumeister paint the lexans. I chose him for two reasons: 1) his workload allowed my delivery window; 2) he does have a unique Old Sckool painting style. Once the bodies were trimmed and mounted, it was evident he produced 'presentation' work.
Another thing to be aware of is that motor is running the current larger/taller T-Jet performance brushes. If the motor has too much natural breaking, swap out for standard height brushes for more roll. Make sure they are top quality brushes like Thunder Brushes. Also if you want to de-tune some, swap out the after-market Scale Auto pickup springs for factory originals. They have less tension but may offer more handling.
If you still need some more weight to keep the front in the slot, try a little lead on the front tops of the pan wings. Too much weight gets counter productive. I found that if I got about 10% over the Super II copy weight that handling went the other way. All of the lead on the pan is in the amount it is, where it is for a reason. So if some falls off, try to get it back in the same spot. I used Lucky Bob's lead.
In summary, I think that the concept has merit but almost creates more problems than it solves. The pan itself does not have enough weight. Then there is the issue of body mounting. Generally it is no were near the 'idiot proof' installation of a Super II kit. Given the same weight and motor as a Super II copy, the Super III concept handles a bit less. I think it comes down to where the weight is in and on the chassis.
The following is the parts build list:
Parts List

1 A/FX NOS chassis
2 Super II Magnates
3 Super II Axles
4 Super III Pans
5 19t Super II Crown gears
7 Misc. - bushings, screws, lead
8 Front axle set
9 Rear Tires
10 Painted Bodies
11 Quad-4 Arms
Here is where the cars live now......
Car #1 – Ron "The Toybaron" Bernstein –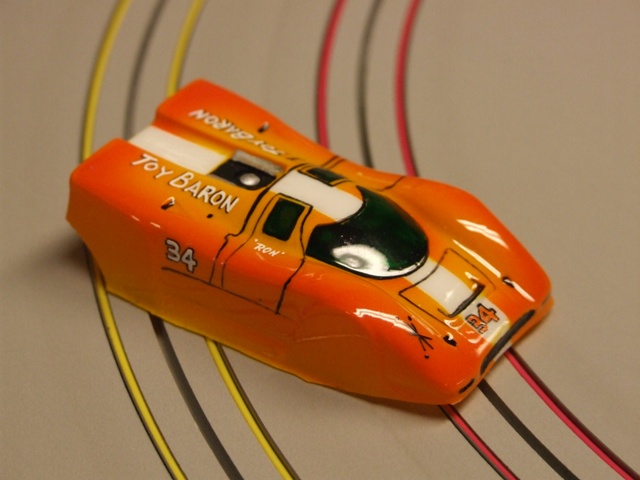 Car #2 – Richard Picard –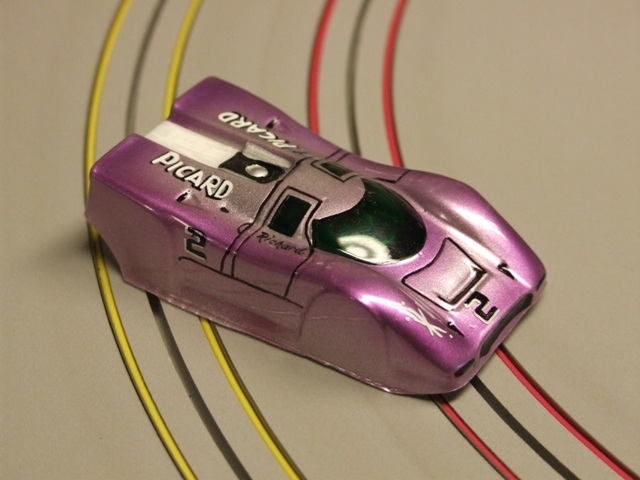 Car #3 – Doug Morris: aka 'Momstractors' -


Car #4 – David Lewis –

Car #5 – Pat "Mr. Tyco Pro" Dennis –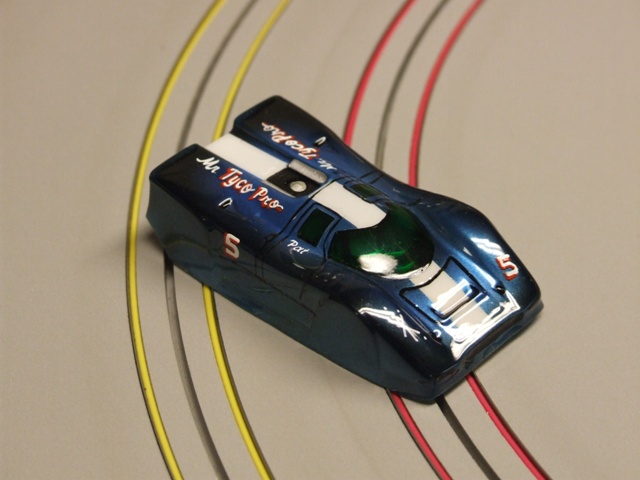 Car # 6 – Gary "The HO Guru" Beedle –


Car #7 – Terry Flynn –


Car #8 – Dean "The Machine" Tweeddale –


Best,
Terry Flynn
----------------------------------------------------------------------------------------------------------
Homeless Cars......at the moment, please contact Terry directly if you have interest!!!!