(back to riggenho.com main page)
-----Spring 2008 IROC Limited Edition-----
In commemoration of over 30 years of racing history...
RiggenHO is proud to release
the 24 car Spring 2008 IROC Limited Edition.
This limited edition relives the golden days of the mid to late 70's with 24 of the best known drivers from Nascar, road racing, and Formula One. Each car is sequentially numbered and uniquely painted with the drivers' names.
IROC is gone...find out more...
Ordering Details: FIRST COME FIRST SERVED...(as of 7:00 am March 22nd, 2008, this edition is officially sold out...)
All previous RiggenHO Limited Editions have sold out within 48 hours of release. Releases are announced by email to all RiggenHO Newsletter subscribers. You can subscribe here...
Drivers names can be selected from the list below, cars that have been taken are noted and the list will be updated as quickly as possible.
2 Car Set $250 (8 sets available), 4 car Set $425 (2 sets available)--includes Priority Mail shipping.
contact us to order



FEATURES:
IROC LE Specifications and Build Sheet
1) RiggenHO chassis modified by Richard Picard to vintage Riggen Industries classic Drop-Motor configuration.
Rear axle bushings installed. Pinned shaker plate up-grade.
2) Scale Auto Lexan Camaro body painted by Jairus Watson in period color schemes with drivers' names. Brass body pins.
3) Mabuchi Green Arm can with rear Oil-Lite bearing. Cans broken in with low voltage. Only cans that exhibited smooth run-up were accepted.
4) Wizzard Pro Predator 7T pinion and 23T crown gears.
5) Wizzard rear axle drill blank trimmed to 1.2"
6) Wizzard AST .440 silicone sponge rear tires.
7) RiggenHO Brass independent front axle set.
8) Modified vintage AJ's pin guide pick-up system. Plastic factory guide pin replaced with steel. Shunt wires added. Plastic clip wire retaining system.
9) Reproduction brass Mushroom weight cap. Additional lead weight behind cap added.
Chassis and shaker plates were 'de-horned' with a Dremel wheel. Parts were media tumbled polished for three hours. Parts were degreased and sprayed with a light coat of clear lacquer paint. Any shaker plate/chassis fit conflicts were identified and corrected. Front shaker plate pin tubes were ground back to insure no motor brush barrel shorting. Chassis numbered on top side, shaker plate numbered on bottom side, motor numbered on label to correspond with car body number.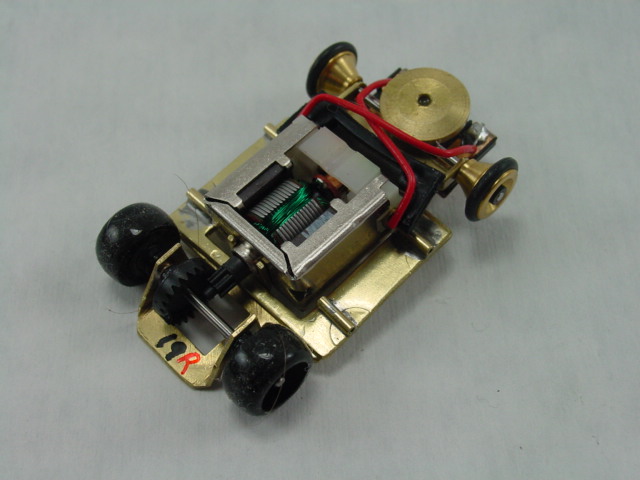 Completed chassis inspected for 'squareness' of wheel contact. Pickup wipers set to allow front wheel track contact. Each chassis run on 55 LF Bowman road course for final adjustments. Bodies individually fit to chassis. Tape applied to inside to prevent paint scratching from shaker plate. Finished units test run again.


Driver's Names:
1) Bobby Allison, silver--taken--
2) Mario Andretti, orange--taken--
3) Buddy Baker, rust--taken--
4) George Follmer, mett blue--taken--
5) A. J. Foyt, yellow--taken--
6) Peter Gregg, green--taken--
7) Graham Hill, dk red--taken--
8) Al Holbert, white--taken--
9) James Hunt, lt blue--taken--
10) Jacky Ickx, orange--taken--
11) Gordon Johncock, purple--taken--
12) Alan Jones, gold--taken--
13) Niki Lauda, red--taken--
14) Dave Marcis, lt yellow--taken--
15) Benny Parsons, aqua--taken--
16) David Pearson,med blue--taken--
17) Ronnie Peterson, mett green--taken--
18) Richard Petty, mett blue--taken--
19) Johnny Rutherford, dk. green--taken--
20) Jody Scheckter, brt orange--taken--
21) Tom Sneva, brown--taken--
22) Al Unser, green--taken--
23) Bobby Unser, dk maroon--taken--
24) Darell Waltrip, med yellow--taken--
Builders Notes:

First off let me say that I owe Ron "Toybaron" Bernstein a big thanks for giving me the privilege to work on another Limited Edition Project. Ron's love of the hobby is persuading and infectious. He is truly the hub in the wheel for all of us that have the opportunity to contribute to the hobby – specifically brass based cars.
My involvement started innocently enough a few years ago in my search for Tyco Pro Type One black pan chassis parts. After a few phone conversations Ron asked me "Have you ever run a Riggen?" I believe my response was "no, but give me a little time and I'll get one from you." I think I ordered one within two weeks.
It took me a little bit to get that first chassis to have some good track manners. But when it was finally set up, I said to my self "wow, this is what a slot car should run like." It reminded me of the old days with my older brother running the 1/24th scale cars at Dan's Hobby Shop in Tampa, Florida.
This particular Limited Edition was inspired by Richard Picard who has also contributed – in a far more technical since – to Ron's efforts to re-popularize Riggens and brass pan cars. I have two of his ISO Riggen based chassis' and consider them small treasures. Richard was the natural choice for the chassis modifications for this project.
As anyone who follows the HO racing world knows, there has been a movement away from heavy magnet cars. These include G-Jets, Thunder Storms, and P-Jets from the major suppliers. These cars are the basis for real IROC style club racing.
My intention with this LE was not produce cars for 'sanctioned' races. The series is, however, intended to capture the spirit of IROC's golden days from 1975 to 1979. Jairus Watson created the paint interpretation for the era in the Scale Auto Z-28 Camaro lexans.
The parts selection reflects somewhat my outlook on car setup. I've found this receipt to be highly pleasurable running on my Brad Bowman road course at 13ish volts with a DeFalco controller.
One positive outcome that I hope you will get is the desire to build for yourself a set of cars to race and wear out. If you have never done this, I know you will learn quite a bit and in the end have a sense of deep satisfaction. With the Picard modified chassis as a starting point, you will be able to select motors and drive lines, and pick-up systems that best suit your needs.
Thanks,
Terry Flynn

Links:
Terry Flynn email
Rich Picard web site
Jairus Watson web site
Wizzard High Performance web site
Scale Auto web site
Pics of the prototypes from 2007.....