| | |
| --- | --- |
| | RiggenHO Model Racing |
| Race, Collect, Restore! | |
Brass Wars History

Picard Blue Mist ISO

Recent changes and additons to this section:
November 2009
---Link to Bowman Collection Brass
July 2009
---Picard page added(rebirth section)
June 2009
---Tony K builds ("Rebirth" section)
---K&K Page ("Vintage" section)
---2 Thalison Builds("Vintage" section)
---Jan 1974 Pro Builds (Pictures added under "Examples" headline)
May 2009
---Scratchbuilds by J Pennington
---more on the K Shepard stable
April 2009
---Pat Dennis Brush Tubes in the How To Section
---new articles added: Bamberg, Beedle How To: The Lightweight, Laganke price list, TCP price list, Thayer Shells list, HOCC The Twin Pan
---1975 MoKan pics in the vintage section
---added VW Panel info (bottom of page, Vintage section)
---info on countertop display
---improved TCP section
There is also a new "links" section at the end. As always, your feedback is always welcome and most importantly of all we WANT your contributions. E-Mail RiggenHO
-------------------------------------------------------------------------

RiggenHo Home
RiggenHO Cars and Parts For Sale
You Are Here: Brass Wars History
Racing Information
How To and Readers Rides

-------------------------------------------------------------------------------------------------

HO Brass Wars, the advent of the Brass Pan Ho Slot Car
(back to riggenho.com)

---About the HO Brass wars....Prologue---

A basic timeline of the early history of HO scale slot cars begins with the 1958 introduction of the Playcraft line in England, followed by Aurora's USA based licensing of the product and their further development with the launch of "Vibrators" in 1960... followed by their "pancake chassis design" T-Jets in 1963. Aurora had great commercial success with this product line and improved them gradually but significantly through 1972, with their ultimate T Jet design called the Super2. Tyco Industries began competing with Aurora with their TycoS range launched in 1963 and then in late 1970 introduced their brass pan TycoPro in-line chassis design. Full details on the history of the TycoPro on this link...TycoPro carried Tyco's range of HO slot cars through the mid seventies.

It is the period of time beginning around 1968 through the mid 1970's that the "Brass Wars" focuses on, led by an important engineering realization discovered by some of the more serious HO racers of the time:

These little cars can be made to go fast and the faster they go, the lower the center of gravity needs to be or else they fly off the track around turns. So....Brass is heavy and strong and machineable, lets stick brass on the bottom of the chassis see what happens!

Hence: The HO Brass Wars Era!

The technical revolution for HO slots after the Brass Era (really evolving from the brass era) changed everything in terms of speed and performance: the introduction of the traction magnet car. While no hard dates can be set for the end of one era and the beginning of another, it is fair to identify "late 60's/mid 70's" (consistent with time period of the fastest commercial growth of HO Slot Car racing) as the heydey of Brass Wars Era.

---About these pages....
The information in the pages and links to follow was collated largely from conversations and e-mails back and forth between myself and a number of Midwest and East Coast racers who were active in the late sixties and through the seventies---some still racing now. Additional information was gleaned from old articles in Car Model Magazine. The moniker "Brass Wars" seems appropriate beacuse there were actually 3 (or more) different factions of racers beating their own path of advancement in the hobby choosing BRASS as the material of choice for chassis innovation and overall HO Slot car design. There was (loosely defined) an "East Coast" group, a Mid-West group (HOPRA), and a West Coast group.There was also a fair bit of "trash talk" between the various groups in magazine columns such as "Miniature Auto Racing", "Speed and Sport" and "HO Coast to Coast".

By no means is this meant to be a thesis or a definitive history of an era of HO Slot Cars, it is primarily an attempt (backed by research and personal intrerest) to document, preserve, and understand this era. It is also an effort to educate and inspire others to document and converse. Any information you have to help enhance and complete this reference will be greatly appreciated--and of course referenced. Contact me at ron@riggenho.com

---------------------------------------------

---A Broad Overview of the Era
-General History

---In Thier Own Words....

-Pat Dennis Mr. TycoPro...tells the story of the design and development of the Tyco Pro




-Doug Morris era racer, modern builder





-Gary Rider Brass Wars "Pro" Racer



also a good section on
race winners and period tracks...
Examples of Race Cars and Parts
2 recent collector finds-more information wanted...CONTACT US!


More on the pro chassis...or copies???? Page 1, Page 2, Page 3 (Car Model magazine)

Vintage:
--Tom Bowman's vintage Brass Collection--6 examples...
--Period Paint how they looked! Thayer Bodies Price List, Lancer HO Body List, K & K Bodies, Snake Bodies, Thayer New Additions
--K and K Randy Kemps product line
--Thalison New Yorker, Thalison In Line
--K Shepard builds... Open Wheeler, AFX pans, Picard Repro
--1975 MO KAN Kansas City Nationals
--Scratchbuilds by J Pennington--1976/1986/2008 generations...
--Terry "Rhino" Hreno stable...idea generator....
--AFX based brass pans as raced in the day (JB Collection)
--The TCP/AFX modified chassis
--Steven Schwartz history lessons and pics
--Kircher Lead Sled a "Magazine" car
--Laganke Price list page 1, page 2
--Vintage TycoPro with all the goodies from the Hop Up Kit
--Vintage TycoPro with hot (green wire) Champion motor
--Scratch Modified Cobramite-there's a lot of work in this car--check out the brass body screws!
--Vintage Riggen Boss with TycoPro hop up gear, pin tube shaker and reworked guide flag
--Vintage Riggen Boss with custom front weights and very rare Riggen PLASTIC front set screw wheels
--Vintage BRASS (Toybaron.com collection): Kircher Lead Sled, Malone Anglewinder, Custom Dynabrute and Custom Cobramite
-- 3 pictures of a car built by Mark Owyang(sp?). Don't know anything else... pic 1 pic 2 pic 3
--August 1971 Car Model Magazine Riggen "Mini Mods" page 1, page 2, page 3
--Bamberg Engineering, hot motors and more page 1, page 2, page 3

--A little more history on the Dynabrute, Anglewinders, the Matchbox prototypes
Reproduction:
--Doug Morris retro builds
--Thurman Scratchbuilts
--Link to a thread on SlotBlog featuring a hand built ISO Riggen--looks fantastic
--"Vitter" builds a Gary Rider car
-- Cobramite Scratchmite vintage chassis with modern parts (pic 1 pic 2)
--Eddie MacDonald mini ISO
Rebirth and New Ideas:
RiggenHO the 21 century version...
Picard Thingies and more...alot more
Tony K, new ideas June 2009
RiggenHO Spena SuperModified
The Rattler
Winning Edge ISO
****Riggen Poly Carb- the next generation RiggenHO chassis!
Rabbit Custom
Eckstein Chassis
2008 Belt Drive Brass...
-------------------------------------------------------------------
"How To" Articles
Gary Beedle, the "Lightweight"
January 1968 Pat Dennis Brush Tubes (scans) Car Model Magazine
HOCC article, the Twin Pan page 1, page 2
How to build a Riggen Anglewinder Car Model Magazine 1972


---Marty Thalison article: Installing the TCP Super Pro Pan, Page 1 , Page 2
-and again by Tom Coyne himself...page 1, page 2
-------------------------------------------------------------------------------
Links to more information...
-- Here are links to some pages from www.scratchbuilt.com featuring HO handbuilts!
Ken Webster Scratchbuilt Caprice
Steve O'Keefe inline HO
Steve O'Keefe Dragster w Cobramite body

-- The next few links are "linked through" Micheal Eckstein's website which has a ton of great info and pics on HO/Brass/Sctratchbuilt
HO Quincy Anglewinder
HO Quincy Inline design

-- Car Model Magazine "Index" of related articles


---------------------------------------------------------------------------------------------------------
Vintage Brass: History and Catalogue from the '70's (www.toybaron.com)

Original Riggen Boss HO Series details about the vintage Riggen Industries offerings

-----perhaps the nicest vintage "collectible" I have seen (click the pic)...

vintage Riggen Industries Counter Display (1975)
Cobramite--vintage reference info
Dynabrute--vintage reference info
Aurora Super 2--vintage reference info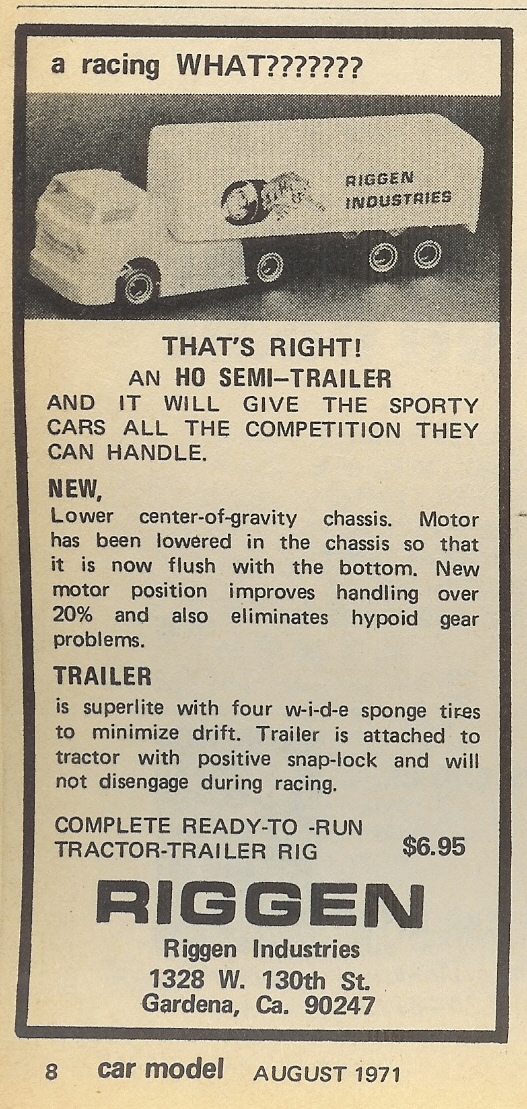 Vintage Riggen HO Collectors Poster order the poster...$7.95
September 2006: research updates to the poster, click here for the changes and corrections!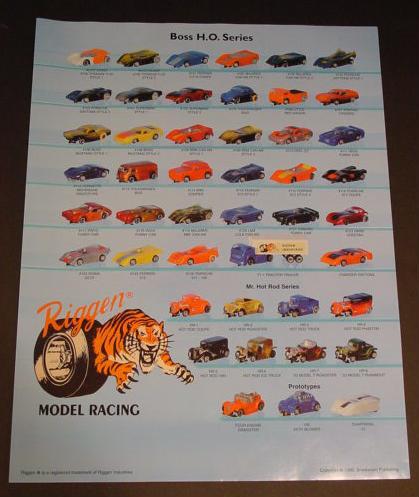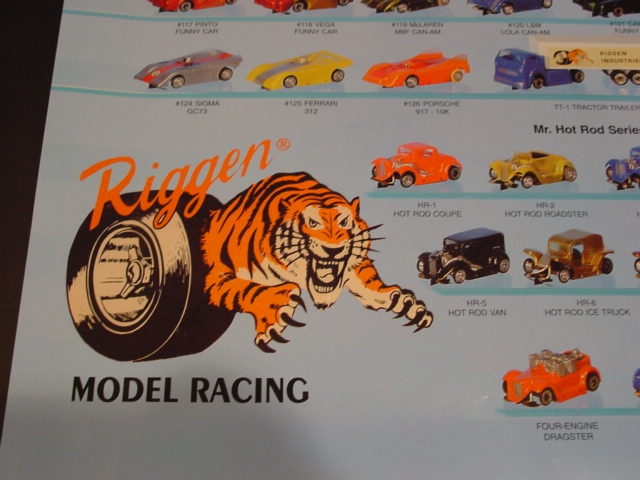 (Click images for larger version)